Welcome to The Garden Haven Rooms!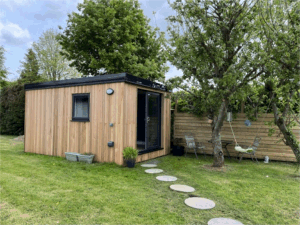 At The Garden Haven Rooms, we understand the growing trend in Ireland for adding extra space to homes and businesses through the use of garden rooms. Whether you're in need of a home office, gym, lounge, studio, cinema room, or any other purpose, we specialize in designing bespoke garden rooms tailored to your specific needs.
With our expertise and attention to detail, we can help you transform your ideas into reality. Our team is dedicated to creating functional and stylish garden rooms that seamlessly integrate with your property, providing you with the perfect space for work, relaxation, or entertainment.

Why choose The Garden Haven Rooms?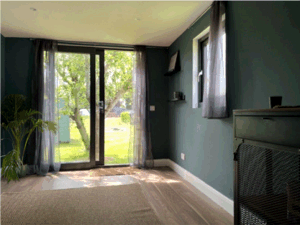 Customized Designs:

We believe in designing garden rooms that are unique to each client. We take the time to understand your requirements and preferences, allowing us to create a tailored solution that perfectly suits your needs.


Standard Sizes and Bespoke Options:

We offer a range of standard sizes to choose from, catering to different space requirements and budgets. In addition, our expertise extends to creating bespoke garden rooms, ensuring a perfect fit for your specific vision.


Quality Craftsmanship:

Our team of skilled artisans takes pride in delivering high-quality construction and finishes. From the foundation to the roof, we ensure every aspect of your garden room is built to the highest standards.


Versatile Functionality:

Whether you have a specific purpose in mind or need a versatile space that can adapt to your changing needs, we can design a garden room that accommodates your requirements. From practical layouts to innovative features, we strive to make your vision a reality.


Attention to Detail:

We believe that every detail matters. From the selection of materials to the finishing touches, we pay close attention to every aspect of the construction process to ensure a superior end result.


Pricing Information:

For transparency and convenience, we have a dedicated page on our website that provides detailed pricing information for our garden rooms. You can easily compare options and make an informed decision based on your budget and preferences.
Unlock the potential of your property with a stunning garden room designed by The Garden Haven Rooms.
Contact us
today to discuss your ideas and let us create a bespoke solution that enhances your home or business.
For Attic Conversions and Home Extensions visit:

Call Jonathan now on 087 966 1938 for a free site visit and estimate for your eco-friendly garden room in Dublin, County Dublin and Kildare, including:
Maynooth Leixlip Celbridge Lucan

Clondalkin Ballyfermot Palmerstown Ronanstown

Dublin West County Dublin Dublin City